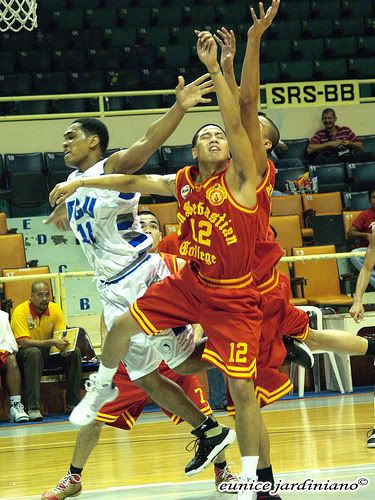 WITH no less than a Final Four berth at stake, San Sebastian College plays San Beda College in today's make-or-break encounter in the 84 th National Collegiate Athletic Association men's basketball tournament at the Cuneta Astrodome.
The Stags will actually gun for a ninth straight win that could change the entire scenario for the teams going into the next crucial phase.
Last Friday, the Stags beat the College of St. Benilde Blazers , 58-51, their eighth straight, to move into a tie with Jose Rizal University Heavy Bombers at second spot behind the Lions at 9-4.
The Red Lions, meanwhile, stayed in front at 9-3 following their 91-74 drubbing of the Blazers last Wednesday.
If the Lions prevail over the Stags today, they will be assured of the first twice-to-beat bonus, while relegating San Sebastian to fourth spot.
This, in turn, will give the Jose Rizal University Heavy Bombers a chance to go for the second twice-to-beat incentive.
But a victory by the Stags will put them closer to a berth in the semis and a possible first finals berth for the first time in 11 years.
"At least, we still have a shot at the Top 2. Our journey does not end here with this win," said Stags coach Jorge Gallent.
Blog Source:
Manila Standard Today